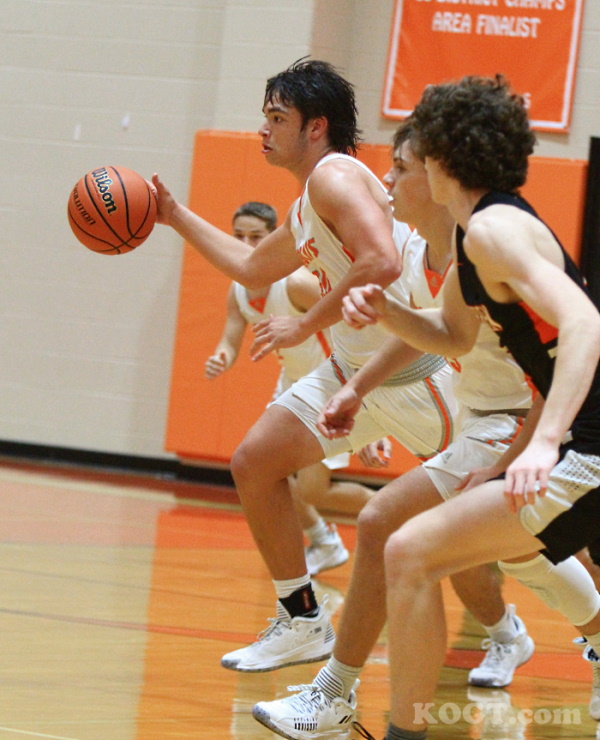 Bobcats Whip Warren Tuesday 74-35
The Orangefield Bobcats forced Warren into more turnovers than points Tuesday as they defeated the Warriors 74-35. Koen Maddox celebrated his birthday with a game high 17 points. Payton Wrinkle added 14, Pete Ragusa 10, and Morgan Sampson had nine points and 10 boards.
–
WOS went on the road and beat Huffman 61-58. Aundrew Jones had 22 pts, Michael Warlow and Myron Griffin had 10 each.
–
Bridge City 49 Buna 70
–
Vidor traveled to Jasper and came back with a 55-50 win.
–
Deweyville beat Burkeville on the road 43-36.
–
On Monday the LCM Bears beat Nederland 55-50. Ben Elliot had 19 and Alantheon Winn 17 and 12 rebounds. The 4-1 Bears go to the Aransas Pass Tournament this weekend.
–
GIRLS
–
WOS defeated Liberty 46-43. Aniah Henderson lead the Lady Mustangs with 17 points.
–
The LCM Lady Bears lost a tough one to Evadale 41-40.
–
Bridge City lost to Woodville 53-21. Junior Morgan Louvier led the Lady Cards with 10 pts and Senior Olivia Hornsby scored 9.
–
Deweyville won against Burkeville 62-16. Aleigha Raymer 29 points, 6 rebounds, 2 assists, and 2 steals; Jill Thompson 14 points, 8 rebounds, and 2 steals; Brooke Sims 5 points, 8 assists, 5 rebounds, and 4 steals; Emilee Totino 4 points, 7 assists, and 6 rebounds; Hadyn Williams 5 points, and 5 rebounds; Chloe Landry 8 rebounds and 5 steals.
–
Vidor lost to Huffman 45-20.
–
Orangefield 58 East Chambers 22
The Orangefield Lady Bobcats traveled to East Chambers tonight and did not disappoint. Madison Greenway dominated with 18 points, 10 rebounds and 5 steals. Greenlea Oldham also had an impressive 18 points and 5 rebounds. Jacelyn Newman assisted in the win with 4 points, rebounds, and assists. Sterling Richard also had 4 points and 4 steals. Kenadie DuBois was a force on the boards with 8 rebounds and she also had 4 steals. Jolie Ponfick wasn't left out of the mix as she contributed 6 points and 5 steals.
The JV Lady Bobcats came out on top in a nail biting game with a 39-34 victory. Kennedy Thibodeaux led the way for the Bobcats with 11 points. Following closely on her heels was Rebecca Durbin with 10. Macy Waguespack and Alexis Maddox chipped in 6 points a piece.
The Lady Bobcats will host their annual Bill Tennison Tournament this Thursday through Saturday.
–